Neutrino — the core player for the Mac with advanced playback features you won't find in any other player. Add effects, reverb, loops, time, pitch, Audio Units plug-ins, and more, all in real time. Enhance your music with equalizers and space correcting audio units. Explore stunning Music Visualizer representations of your music as it plays.
New Features in Neutrino 1.8
Multiple markers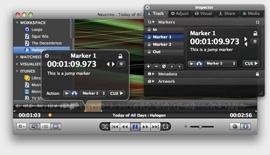 Neutrino 1.8 adds support for multiple markers per track. You can easily set up actions to trigger when playback reachers a particular marker.
A few other Neutrino Features
iTunes Integration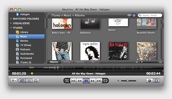 You've put a lot of time into collecting and organising your iTunes Library. Neutrino allows you to access all your playlists, tracks and tunes from the iTunes source.
Core Audio FXChain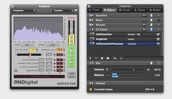 Apple's Audio Units are the industry standard effects plug in format. There are literally thousands of AUs available, ready to use in Neutrino.
Quartz Compositions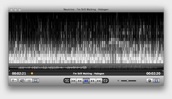 Neutrino is one of the first apps to implement the Quartz Composer Music Visualizer protocol. Which means stunning animations which react to your music. Twenty included modules or create your own!
Independent time pitch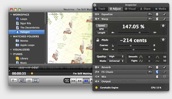 For musicians, the ability to slow down or speed up a track without altering pitch is a key to learning. For DJs, fine pitch or beat matching is essential. Neutrino makes it simple.
Applications
Music training
Special effects
Pitch shifting and Beat sync
DJs + VJs
Transcribing dictation
Music visualisation
Main Features
Pitch Shifting: -1200 to +1200 c
Time Shifting: 1/4x to 4x speed
Unique Core Audio + QuickTime hybrid playback engine
Read about Neutrino's features in the manual.
Features
Real-time Audio Units FXChain
10 band Graphic Equalizer
Looping controls to isolate one or more sections of a track
iTunes integration with built-in iTunes media browser, or drag & drop
Quartz Composer Music Visualizer Protocol host
Powerful Audio file conversion and export with FX
Fullscreen mode
Available now as a free 30 day trial version
Neutrino continues with limited functionality after your 30 day trial: CoreAudio mode is disabled
Download Neutrino 1.95
10MB | Universal Binary
Shareware 30 day trial
Requires Mac OS X 10.6+


Buy Now
Support
Hear what our users say:
This software really hits the spot!
I have Protools HD and other top shelf audio software - but it is so much more convenient to do this kind of work from iTunes and in the formats of the files.
I never thought that my plugins could work on audio in compressed formats!
Very cool indeed!
Paul Ellis
via email
One of the few shareware which REALLY worth the price! So stable, so well thought, so user friendly... My main guitar backing track player from now on.
Anonymous
Blog comment
Superb software. The people behind Neutrino are brilliant for replying to feature requests... No sooner had I requested a feature when, hey presto, it was incorporated into the new release! I could not have asked for more.
Neutrino is a joy to use. Highly recommended.
Dougster
Simple interface, fast, great functionality, integrated with iTunes, reasonable price. What's not to like?
Jozseph
Ok, man, I just downloaded this to play with it, but it is absolutely STUNNINGLY awesome. Wow! Is all I can say. It may replace iTunes as my main player, especially if I want visualizations as well. Wow.
ecable
Simply fantastic. My favourite Player after iTunes. Everyone has to have this player on your own Mac.
DJEFIS